As a native Washingtonian and lifelong fan of Bruce Springsteen, I was disappointed in the way the irony of his all-acoustic set flew over the heads of many who sat in or tuned in for Tuesday night's HBO broadcast, Concert for Valor. In the early 80s, Ronald Reagan and his crowd tried to appropriate Born in the USA as an anthem for a campaign that also promised us that it was "morning again in America."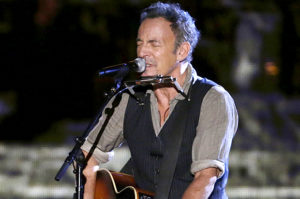 Back then, Springsteen and his fans reacted quickly to put a stop to such use. The song was anything but Springsteen's rendition of America the Beautiful.  When Springsteen sings, "Born down in a dead man's town/the first kick I took was when I hit the ground," he is not telling the story of purple mountains' majesty.
The song, nearly 40 years on, rings true today, even in the lines where the "VA man" retorts, "son, don't you understand?"
Apparently not, judging from the Twitter feeds that paid homage to Springsteen and his performance Tuesday. In today's America, we don't shame our veterans as we did after the Vietnam war, but we surely, as a nation, ignore what becomes of (mostly) young people sent to repeated and seemingly endless rounds of battle.
To be sure we admire their service, their bravery, and their sacrifice. When we see video montages of happy soldiers and Marines reunited with their families, we shed are grateful tears. For 95 percent of us, the wars in far-away places are far from our lives and our experiences.
We expressed the requisite outrage over recent VA scandals, and admired the struggles of wounded warriors who, like the amazing Master Sergeant Cedric King, find the will to flourish within and despite their maimed bodies. For the most part, though, we don't see that too many of our veterans come home with a "fire still raging within", and a war that plays out for years in brains injured by bomb blasts.  We do not march in noisy crowds demanding that more of our tax dollars be directed to veterans and their families. Instead, we elect Republicans who are now beating the drums of war against ISIS.
Meanwhile, the veterans we laud and thank are really just symbols of the people we ignore and avoid. Record numbers of young veterans will now live with chronic pain syndromes for the rest of their lives. At the same time, we support policies that are barriers to accessing pain relief treatments, both traditional and complementary.
We give a handful of folding chairs to veterans on the Mall and seats in our sports venues, while we have no shelter for the thousands of veterans who are now homeless. And while we go on holding our national versions of bake sales for our national defense, we withhold funds that would provide meaningful training and education to veterans trying to rebuild their lives and find their purpose.
Bruce Springsteen, a man who recently pointed to Flannery O'Connor's writing as having made him the man he is, knows irony.  When he opened with Promised Land as a prayer for active-duty military and veterans, Springsteen knew just what he was doing. For those lost to injury, poverty, addiction, pain, and suicide, we have yet to build a promised land.
"Mr. I ain't a boy, no I'm a man/and I believe in the promised land," the Boss sings. So do I—and so do the men and women who volunteer their lives for the sake of our freedom. To them, freedom is not just another song lyric—but it is often still just a word to those who come home and vanish under our lip service.
key words: Bruce Springsteen, Born in the USA, Concert for Valor, veterans, homelessness, pain, addiction