During last week's Veteran's Day inspired concerts and tributes to veterans, a Hill-gathering of Disruptive Women (and our man of the month, Rep. Tim Walz, (MN-OI) spoke truth with power. Gathered to discuss challenges faced by women veterans, the group included veterans, members of Congress and their spouses, congressional staff, state leaders, and filmmakers. The group had had enough of platitudes and promises. We were ready for disruption, and Rep. Walz delivered just that, saying he was done with "incremental change" (Washington's latest, favorite buzz-word) and prepared to lead "seismic change."
Walz speaks from a place of experience, knowledge, and passion: He is a retired soldier, and the highest ranking enlisted man to serve in Congress. During a 24-year stint in the Army National Guard, including a tour of duty in Operation Enduring Freedom, he also taught high school. The latter tour provided him some insight into chaos and disruption. In the 113th Congress, he will serve in leadership roles that include the National Guard and Reserves Caucus, and the Congressional Veterans Jobs.
In his remarks, Walz noted that "it doesn't take much to offer health care that people can't access." He added that although the VA has made some progress since the days when "the best thing the VA could say for what it had done for women was that the exam tables no longer face the door." Later, he added that the VA system—staffed by dedicated people—still has far to go to really offer care for all, noting that, "it is much easier to put up a yellow ribbon than it is to step up care."
As recent Veterans Health Administration scandals have revealed, its challenges go beyond exam room layout – and problems reflect deeper challenges within the system in particular and American culture in general.
The day's two other panelists included Emmy award-winning filmmaker Patty Lee Stotter, whose award-winning documentary, Service: When Women Come Marching Home, uses women's voices to tell their story. Director of Washington State Department of Veterans Affairs, Lourdes E. (Alfie) Alvarado-Ramos, detailed her state's actions to address specific problems.
Stotter has crafted films to give women veterans a place to speak. Her presentation included quotes from several women veterans, and included poignant thoughts, such as these:
"Tell them how I had to file a congressional inquiry two years after my daughter was born because the VA was NOT paying my prenatal care bills, which impacted my credit score…Tell them that the stress of being billed throughout my pregnancy with no advocacy from the VA left me crippled with PTSD and physical pain.""
"Tell them I was told that I should leave my boots on while having a trans-vaginal ultrasound because the stirrups were so filthy."
"Today, I am fighting for my life. I have an extreme case of PTSD that has rendered me housebound. I have been in the disability claims process for nearly 4 years…"
 "I was raped in Iraq and when I went to report it I was told I was lying and probably wanted it. I was denied the right to get medical help."
Alvarado-Ramos, a veteran herself, offered models from the other Washington that reflected possibilities for change and improvement. Washington State, she said, has, 70,000 women veterans, and, by 2040, projections are that there will be a much higher percentage of women veterans, as well as on active duty, as the numbers of men decline. She listed a dozen programs underway, most brand-new and inspired by her own service. These include: establishment of a women's veterans committee; development of a veterans registry to better tracking and inform veterans; hiring more women service officers to help veterans of claims; and creation of a statewide information campaign to educate the the public and raise awareness of veterans' ongoing struggles.
All of these programs represent a step toward addressing shameful situations that our veterans encounter – including homelessness, food insecurity, incarceration, mental health problems, sexual assault and economic hard times.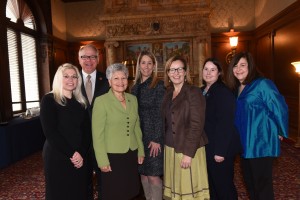 In a follow-up interview with Disruptive Women, Stotter talked about gender stereotyping and discrimination, and its toll on women veterans. I told her about the work of MacArthur genius Ai-jen Poo to organize domestic workers in New York City: When Ai-jen talks about women work—particularly paid housekeeping and babysitting–she notes that  says simply do not value or compensate the people who do the work that allows the rest of us to do our work
"Exactly!" Patty said. "We don't even value the work that allows the rest of us to be free." She continued, "I am furious that hard-working people who are soldiers get so little. Going to war, we see the worst of what the universe has to offer.  In our response to women veterans, I fear that we are losing our soul."
It was the first time in a decade of attending DC panel discussions that I went home and spent three hours writing a poem about what I had heard.  Earlier in the week I'd written an essay about Bruce Springsteen's performance at The Concert for Valor, and my appalling realization that our veterans must rely on the national equivalent of bake sales to resume civilian life.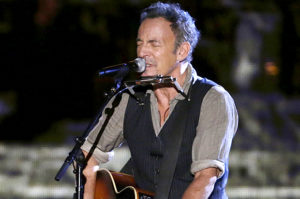 I am proud to join this movement to advocate for women veterans. Not a veteran myself, I cannot imagine what women veterans have endured. But as a midlife woman, I know too well what it means to have a voice that is silenced. A voice that gets shouted down or shamed or discounted. A voice that gets shoved against the wall with a knife. A voice that does not dominate the room.
As a Disruptive Woman, I know what it means to reclaim your voice, to use it for good, to launch seismic change that echoes for many, and that helps people build new and safer shelters within their own minds, bodies, and lives.
Each and every Disruptive Woman should join our sisters in this battle. We can all sing in this chorus. Perhaps not from the same page or even the same score, but in a song that raises our voices and lifts them for those who, just now, cannot do it for themselves.
key words: Disruptive Women in Health Care, Tim Walz, women veterans, military sexual trauma, rape, wounded warriors, Ai-jen Poo, Bruce Springsteen, Concert for Valor
This post originally ran on Disruptive Women in Health Care on Tuesday, November 18, 2014.