For years now, I have harbored my great-grandmother's cookbooks and order pads that date from the 30s and 40s, when she was a cook at Smith College in Northampton, Massachusetts. I have a half-baked notion that one day I might cook the many recipes and so have a taste of American foods, circa early 20th-century.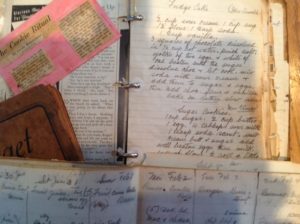 I also have copies of correspondence between her and her three sons at the start of World War II, as they made cross-country journeys, and wrote to her of the thrill of Hollywood, the tedium of North Carolina. As the war progressed, the long lists of what she ordered to feed the students in her house grew shorter and shorter; the menus, which had been fairly lavish in 1940 or so, become quite stark by 1944. While my uncles' letters are usually light and full of a sense of adventure, they are tempered by letter in which she writes of her sorrow when her eldest son, shot down and killed in a mission over France.
I have long wanted to write a book that blends these artifacts, and tells the story of one Irish immigrant family as it began to make its way through and into America.Instead I keep it all squirreled away, too engaged in making a living and raising a family to devote my imagination to such an endeavor.
This Christmas, though, my first as a grandmother, I've been thinking about my own grandmother and her mother, and the smells of my childhood, in the kitchen of the house where my grandmother sometimes lived with us, when she was not traveling the world.
She enjoyed a long career as a research scientist in Beltsville, a retirement to Australia, and globetrotting for many years. Between times, she sometimes lived with us. She had an extensive circle of women friends, people with whom she had worked or gone to church or played poker.
Every year, as Christmas neared, she would being her preparations for the epic task of making miniature fruitcakes as gifts for these friends. The process would begin with a stench – there is no other word for it – of boiling blackstrap molasses, a process which, in my memory, lasted for days. At the same time, she would set up shop at the kitchen table, where she would chop candied fruit into almost microscopic bits and pieces. Days of baking would then ensue, with hundreds of tiny fruitcakes arrayed in cookie tins that she would fill and stash in her room. She would mail some packages to her friends around the world, and deliver others in person as the holiday neared.
Her friends all had similar ideas, each with her own specialty, and my grandmother would often come home with baked delights—pfefferneuse, bird's nests, sugar cookies and gingerbread. I remember feeling vaguely embarrassed for my grandmother, who had returned such gustatory delights with something as awful-smelling as fruitcake. Surely, it was one hot mess.
I have yet to try fruitcake –memories of the awful smell of boiling molasses has kept me from it. I felt vindicated in my ick-factor years later when I learned that fruitcakes originated in Ancient Egypt, where they were buried with the dead. Where they belong, I think. (In fact, my parents tell me that the smell that bothered me was the rum, and that everyone loved the 99 proof fruitcakes.)
This year, as a new grandmother, I thought I might try whipping up some treats from my great grandmothers' recipe book. I had hoped that the fruitcake recipe would be there among the book's crumbling treasures. Instead I have read how to make Northampton pudding and date and nut torte, and marveled at confections that require 10 pounds of sugar of 4 pounds of butter or 40 egg whites. My sweet tooth drools.
The back of the book includes a page of tips about working in the kitchen, and includes handy ideas, such as using milk to rinse eggs from a bowl, and never using two spoons when one would do. I am taken by my great-grandmother's spidery handwriting, and the many names listed beside so many recipes I like the smell of the worn pages, the food stains, the simplicity of it.
My own heirloom recipe is one my mother clipped from the Washington Post years ago, for thimble cookies. During the inflationary 70s, we used margarine for everything – but the thimble cookies were so special, we actually used real butter. I was allowed to use my great-grandmother's thimble to press holes in each cookie, which I filled with raspberry jam. I still do. If my grandmother was around when I made these, she would chide me to be sure to scrape every iota of butter from the wrappers.
I still do. And the cookies are as tasty as ever, more so because they are a rare treat. A batch of 40 usually lasts an afternoon.
I have an image of myself, with the ghosts of my grandmother and her mother looking down and over my reading glasses, as I measure out ingredients. I wonder what my granddaughter will like—and what will cause her to shrivel up her nose and turn to something more tasteful.
key words: Christmas, grandmother, fruitcake, thimble cookies, Massachusetts, Smith College, World War II, cookbooks, recipes